Gross Brothers Media specializes in high-resolution digital 360° panoramic photography, 3-D object photography, and audio/video documentation.
Their mission is to produce high-quality, high-resolution media of cultural heritage and historic works of art and architecture, and to provide an interface that delivers content in a user-friendly and straightforward way. Gross Brothers Media creates virtual tours that may incorporate high-resolution spherical panoramas, 3-D object files that allow viewing of 3-dimensional objects and artwork from any angle, high-resolution zoomable images of details and 2-dimensional artwork, site maps, video clips, accompanying audio narration, and ambient audio of the documented spaces.
Areas of focus include:
museums and art galleries
cultural heritage sites
historic architecture
modern architecture
landscape architecture
artworks, both two and three dimensional
natural landscapes
In working to achieve its mission, Gross Brothers Media has collaborated with universities, academic institutions, foundations, museums, and caretakers of many of the world's greatest monuments of architecture history and cultural heritage to create a digital library that is one of the largest of its kind. GBM has offices in both the Northeast and on the West Coast of the United States, and has photographed across North America, Europe, the Middle East, and South America.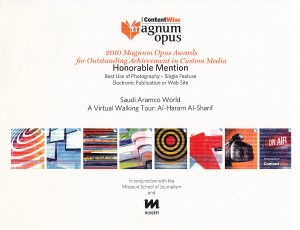 Magnum Opus Award 2010 for Outstanding Achievement
in Custom Media, honorable mention
Best Use of Photography – Single Feature,
Electronic Publication or Website
Saudi Aramco World
A Virtual Walking Tour: Al-Haram Al-Sharif.
Interface
Gross Brothers Media develops customized, user-friendly viewing interfaces that address the needs of clients and their viewers. The viewing interface can easily be embedded into an institution's existing website to create a seamless connection to the content.  The interface also works with all mobile smart devices, including iOS devices (iPad, iPhone, etc.), and Android mobile devices.
The high-resolution digital spherical panoramic images produced by Gross Brothers Media are commonly viewed with Adobe Flash and/or Apple QuickTime Virtual Reality technology. To view this site you will need the Flash Plugin and the QuickTime Plugin. We recommend using Apple's Safari browser or Mozilla's Firefox browser on PCs to view the tours.
Company History
Michael Gross and Barry Gross have served as Company Principals since its founding in July, 2006. The Gross brothers have served as Co-Directors of the Williams College Virtual Architecture Project since its inception in 2002, under the direction of Professor Eugene J. Johnson, Amos Lawrence Professor of Art. The result of this project is a unique collection of over 1400 high-resolution spherical panoramas that represent many of the greatest monuments of Western and Islamic architecture. These serve as the technological backbone of a unique undergraduate education at Williams College, in which panoramas are used in each lecture on the history of architecture.
Michael and Barry have been working with digital panoramic photography since the 1990's. Their photography of art and architecture has been published or displayed at Williams College, Williams College Museum of Art, University of Virginia, University of California, Los Angeles, Utah State University, Saudi Aramco World Magazine, University of the Witwatersrand, Johannesburg, South Africa, University of Vienna, Harvard University Graduate School of Design, Princeton School of Architecture, the Samuel H. Kress Foundation, ARTstor, and others. They have presented their work at Texas A&M University (Fall 2005) and Williams College (Summer 2007). In 2006, both Michael and Barry were Visiting Fellows at the Institute for Advanced Technology in the Humanities (IATH) at the University of Virginia.
Museums Photographed:
National Gallery of Art, Washington DC
New-York Historical Society, New York, NY
Museum of Jewish Heritage, New York, NY
National Archaeological Museum, Athens, Greece
Archaeological Museum of Olympia, Greece
North Carolina Museum of Art, Raleigh, NC
Columbia Museum of Art, Columbia, SC
Lowe Art Museum, University of Miami, Florida
Portland Art Museum, Oregon
High Museum of Art, Atlanta, Georgia
Birmingham Museum of Art
Memphis Brooks Museum of Art
Philbrook Museum of Art
Museum of Fine Arts, Houston
Legion of Honor, Fine Arts Museums of San Francisco
Pomona College Museum of Art
University of Arizona Museum of Art
El Paso Museum of Art
Denver Art Museum
Seattle Art Museum
Williams College Museum of Art
Solomon R. Guggenheim Museum, NY
Guggenheim, Bilbao, Spain
Kimbell Art Museum, Fort Worth, Texas
New (Mies) National Gallery, Berlin, Germany
Altes Museum, Berlin, Germany
Neue Staatsgallerie, Stuttgart, Germany
Pennsylvania Academy of Fine Arts
Syon House, London, UK
Sir John Soane's Museum, London, UK
Hagia Sophia, Istanbul, Turkey
Contemporary Arts Center, Cincinnati, Ohio
Palazzo del Te, Mantua, Italy